Hello there! Well, let's see if I have it in me to resurrect this here blog. Though I haven't felt very creative lately, I have in fact been finishing some things up and starting new projects. So here's a look into my home as of today.
This summer/fall I finally broke out the paint brushes and painted my $30 Goodwill hutch. I didn't get fancy with the paint. I just used what I had on hand from my
TV stand
. Behr Premium primer-in-one, semi-gloss, color matched to Benjamin Moore's White Dove. Two coats, just sanding to distress and then a coat of wax was applied with a brush and buffed off. I'm so glad I went with all white. Now it won't matter what color accessories I dress it up with. *Someone keeps wiping off my chalk labels. Grrr... And I will teach myself how to crochet this winter so I can make little coasters to go under the glass jars. I'm worried they will scratch the paint, so for now, pot holders and a dish towel do the job.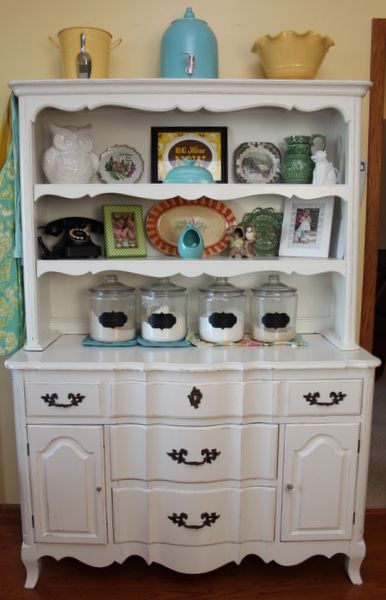 I bought Behr's regular paint in satin, color matched to Benjamin Moore's Old Pickup Blue. I used
this home-made chalk paint recipe
too.
*First whisk enough water into the P.O.P. to make it smooth like a pancake batter (you don't want any lumps). Then add the paint and stir. You don't want to use a paint with primer in it or it will dry out too fast. The P.O.P. already helps it dry fast which is another bonus.
I love the final texture of it and how the brush strokes really disappeared. I do wish I had sanded the piece first (I did NO sanding on the body of this) because there is a bit too much of the original orange stain peeking through after distressing. Chalk paint flakes off quite easily so it was hard to distress it just a little. I sealed it with wax and it has worn really well the last month or so.
I love how smooth this finish is. Like butta!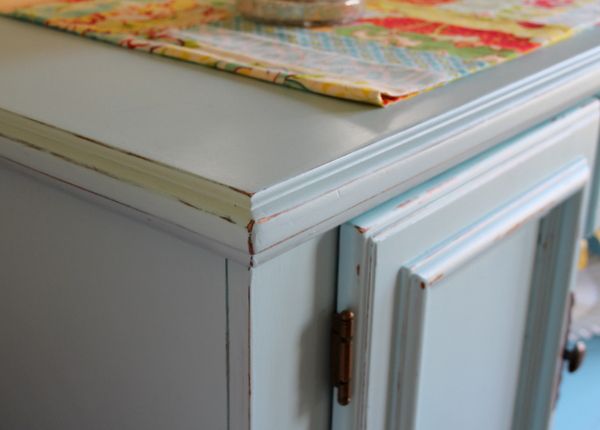 Now for the table itself. I must say this was an almost-didn't-happen project. I tried to take the easy way out and use a varnish stripper on the table instead of sanding down to the wood grain and that was a terrible mistake. Mostly because I didn't go into the store with a certain brand in mind. I didn't read any reviews, just picked up the one I thought sounded best. Don't ever do that! The stripper was terrible. It wouldn't scrape off, just became a hard layer of gunk that in the end I had to sand off anyway. It took hours, and hours, and hours... And in the end I didn't realize how thin the pine veneer was on the table and ended up sanding right down to plywood in a few places. Oops! There went my dream of just staining the top a dark brown. Now I was left with spray painting the top black. In the end it turned out just fine, but I look forward to the day when I can just walk into a store and buy what I want to furnish my home. Someday... For now, this still works and it's awfully cute.
I had really wanted to use the chalk paint recipe on the table and chairs, but since I started with the hutch and didn't use it for that I thought it would be too noticeable to have such a different texture in the same room. In hind sight I should have just gone with it anyway. Plain laytex paint (even with the primer-in-one) wants to peel. And when I went to distress the chairs, boy did they peel. More sanding and paint touch-up later they are much better. Chalk paint would have been tons easier. But it's done now and I'm not giving it another thought.
My favorite part was covering the seat cushions in a laminated fabric. This is the first time we've had padded seats in our kitchen and I just knew basic fabric wouldn't cut it. These have been really great! It's from Heather Bailey's Nicey Jane line. She sells the laminated on her site too.
David liked the green so much that he said he could live with the pink in there too. The olivey green pulls out the darker green in the curtains. I love that the flower centers are red and picks up the red cherries in the curtains.
This whole room is just sunshine to me. I love it!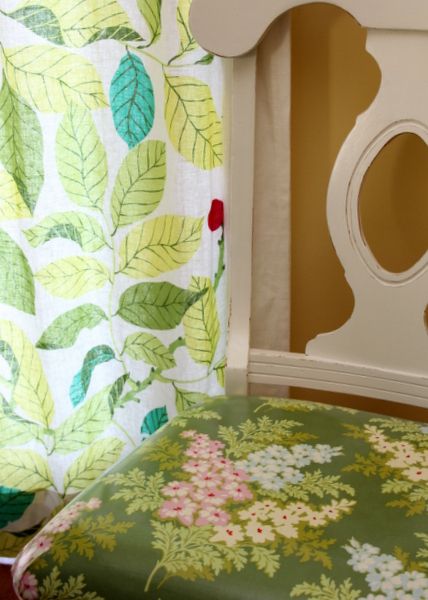 Speaking of red! Here is my newly painted kitchen trash bin. Until now it's always been a stained wood. I added the lettering and distressed it of course.
Surprisingly people still ask where the trash bin is. ;)
And I love this new addition. Polka dot glasses by Southern Living at Home. Long since retired and only to be found on eBay. I scored these 12 glasses for $38 total. Woo hoo!
In the middle of my table is a metal tray from Ikea. I have a cute owl vase for pencils on it and the little orange pot has more erasers. This is homework central every day after school.
I added hooks in the kitchen for the kids backpacks. I still need to fill the holes and paint it white, but we've been using it for months now and it really helps with the after school clutter. Our home is small and cozy. We really live here. So if I need backpacks hung in the kitchen to stay sane, then that's what I'm gonna do.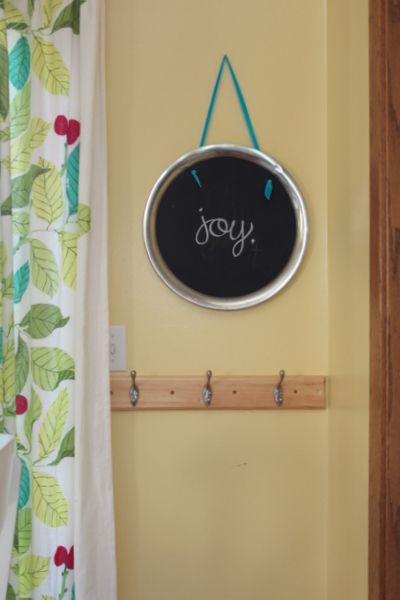 You can kind of see below that the dining table is super close to the sliding door. And that our 6th chair is actually in the living room. Oh boy! This was another learning moment for me. I had no idea that this table was really only meant to hold 4 chairs around it. The chairs themselves are really wide across the front. In order to have two chairs next to each other on the long side, you have to have the leaf in it. We tried it without for a few weeks and it was terribly annoying. So, yes, all for the sake of "pretty" I swapped my mom's old table (which is now in my uncles home) that seated 10, for this new table, that in our home can only fit 5 chairs around it. Oops! Live and learn, right?
It sure is pretty though. And I do love having it. It will just make moving to a bigger house in a couple years that much more fun. Right?

This little side table got a couple coats of chalk paint too. Love it!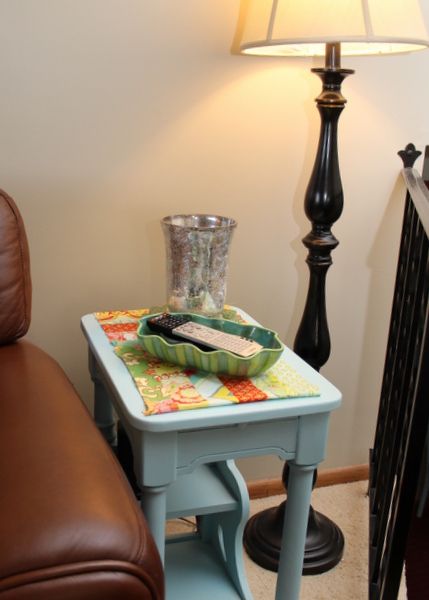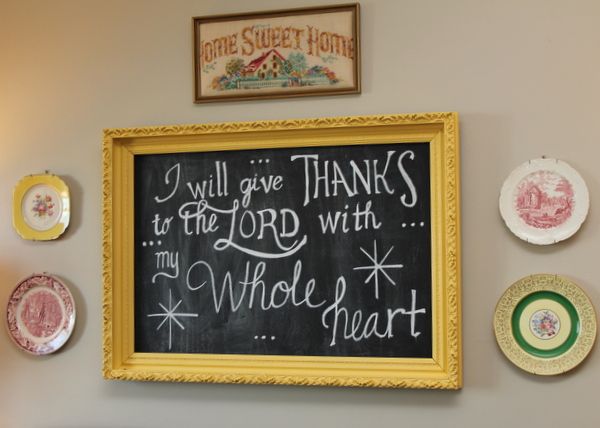 Hope you all have a wonderful Thanksgiving with family and friends. I'll be back soon with some tips and tricks for how to stitch those cute felt and sequined stockings I make. I'm working on figuring out how to line them now.